Maria Soboleva
15.03.2016
World Cuisines - Gastronomic Tour
Kitchens of the world- from this phrase, real gourmets wake up their appetite and desire to try something such. After all, national dishes are so colorful, sometimes exotic, and their diversity is so great that there is not enough life to try everything. Well, go on a culinary journey?
National traditions in world cuisines
Every nation has its own national cuisine, culinary traditions have developed over the centuries, the people have kept the best recipes and passed on to their descendants.
National dishes were prepared from products specific to a particular locale. How could the people of India, for example, not use the richest variety of spices and spices in their kitchen, and the inhabitants of the Scandinavian countries - fish abundance?
And although over time, many world cuisines become available and popular around the world, the soul of the people still lives in the cooking of every country. Well, they will not be able to cook a real pie better than in Russia, and foie gras will have a true taste only if this culinary masterpiece was made by a French culinary specialist, and from local products.
European cuisine features
Skeptics may argue - is it possible to speak about European cuisine, as such, because the dishes of the Mediterranean countries can not be compared with the usual menu of Germans or Scandinavians.
We agree - the national cuisine of each European country has its own zest. The culinary tradition of Europeans is as diverse as the climate, geographical and cultural traditions of each country.
Ukrainian dumplings, Hungarian goulash, Spanish paella, German sausages and sausages, Swiss cheese fondue ... Completely different dishes, but so mouthwatering and delicious!
Meals from different European countries can be found in the menu of many restaurants: at the same time they cook Scandinavian fish, Czech dumplings, Greek musaka, and Austrian strudel.
Without being able to travel the world, you can make a gastronomic tour and better understand the culinary culture of different countries.
And yet there are common features that distinguish European cuisine in general, say, from Asian:
A much larger number of meat dishes: entrecote, steak, langet, roast, meatballs, roast beef, schnitzel, escalope ... You can transfer for a very long time.
European cooking uses not so much spices and seasonings as, say, Asian.(Again, Southerners-Europeans still use all sorts of flavorings more than the Finns and Swedes). But in general, European cuisine is more focused on the natural taste of products.
Many dishes are made from wheat flour - baking is so tasty and varied that you will just yum fingers. Yes, and pasta presented in abundance.
European cookery, like no other cuisines of the world, actively uses eggs - boiled, fried, in the composition of flour dishes, even in drinks, for example, in milkshakes.
Assorted European dishes
To describe all the diversity of the culinary traditions of the Old World will require whole volumes of gastronomic publications. Yet the most popular dishes and cooking traditions - a contribution to the cuisines of the world - are worth remembering.
A cup of coffee in the morning, as a mandatory attribute of the beginning of the day - is it about you? Thanks to the Austrians, the first coffee shops were opened in their country, which have now become an indispensable accessory of every European city and town.
Sauces, which change the taste of dishes, are already a French invention, which the chefs of other countries willingly adopted. And yet, after the French,cuisines from around the worldbegan to use in the process of cooking alcoholic beverages: brandy, liqueur, wine.
And vegetable soups: Spanish gazpacho or Italian minestrone? Have not tried - well, you must prepare these popular and healthy foods.
Well, about the cheeses, you can argue which tastes better - French Roquefort and Camembert, Swiss Emmental or Italian mozzarella and parmesan.
Gentle, airy pudding - English contribution to the treasury of European cuisine. And the British instilled in Europeans the tradition of tea drinking.
The English of all classes are convinced that tea has miraculous properties. Whatever your mental or physical condition, all you need is "a cup of good tea
And with tea, Czech roll will go well. How to cook it - recipe in this video:
World cuisines - oriental flavor
World cuisine is unthinkable without the culinary traditions of the East. And again we are amazed at the variety and often the absolute dissimilarity of dishes. Indeed, under the concept of oriental cuisine, it is customary to combine completely different gastronomic customs of the peoples of the world.
Food of the Caucasus, steppe Asia, Arab countries and distant Korea, Vietnam and Japan are also different, as well as their culture.In Muslim countries, many dishes are made from lamb, and the Japanese prefer fish and seafood.
What national dishes come to mind when we say "Oriental cuisine"?
Shawarma from the Middle East, Central Asian shurpa, dolma, popular in Turkey and the Caucasus, Uzbek pilaf (however, it is excellently prepared in many eastern countries) - these dishes have long been included in our diet and are very much loved by us.
Middle East - national characteristics
What is the contribution to the cuisines of the world of the peoples of the Middle East region?
This is a variety of dishes from lamb and poultry (pork is practically not eaten there, and beef is not particularly popular), especially stuffed with rice, vegetables, and spices.
Beans are often used in various foods, traditionally extensive use of vegetables and fruits.
And seasonings, roots and herbs - they are a separate conversation, they give a unique flavor and piquancy to food. Like the abundance of onions and garlic in various dishes.
Vegetable caviar and salads, nut paste, small pies with various fillings - all this is the so-called "meze" - a whole arsenal of various snacks, without which it is difficult to imagine the cuisine of the Middle East.
From bread products, we note pita, pita and various flat cakes.
Eastern sweets are just a gourmet's dream. Puddings with pistachios, baklava, halva, sherbet and Turkish delight ... expanse for sweet teeth.
Let's move further - to mysterious India. And try to cook Indian dessert Laddu according to the recipe given in this story:
Farther East
A separate point of our culinary journey around the world - Asian cuisine, known for its passion for rice. It is not only actively grown there, but also regularly eaten - as a side dish, as a raw material for flour, and as the basis of desserts and sweets. And rice noodles are very much loved and eaten for many centuries in different countries of the Asian world.
Although, according to culinary experts, Chinese, Korean, Japanese, Thai, Vietnamese, Filipino cuisines are not so similar to each other, but their strong difference from European culinary combines them.
In addition to rice, this is the widespread use of soybeans and vegetables, which, on average, make up the third part in the diet of Asians. The Chinese and Koreans enjoy vegetable dishes cooked with the help of pickling, pickles, as well as pickled and dried.
Well, the notorious sharpness of dishes - the stomachs of Europeans are not too adapted for use, for example, kimchi (spicy Korean cabbage) or heh salmon.
Asian cuisine is strong in terms of cooking fish dishes: Chinese shrimp soup, carp in a sweet and sour sauce or Korean-style squid have an excellent taste. How to cook a Thai dish - fried rice with shrimp - see in this video:
But, perhaps, Japan is most famous for its fish dishes. The gifts of the seas according to the recipes of Japanese cuisine became famous all over the world.
Hardly anyone has ever tasted sushi and rolls of special varieties of fish (tuna, salmon, salmon). Many people here already prefer to savor these delicacies not in special establishments, but to cook sushi at home.
Asian sweets have already entered the cuisines of different countries of the world - rice cakes, sweet futhomaks, Chinese moon cake, Korean desserts made of fruits filled with creams and nuts.
And, of course, the national cuisines of Asian countries are unthinkable without tea.
Whole tea ceremonies are not just quenching thirst, but the cultural traditions of these peoples.
African culinary traditions
The inhabitants of the vast Black continent also contributed to the cuisines of the world. The culinary preferences of the inhabitants of Africa are largely influenced by historical features - the long years of colonization.
The menu of residents of coastal countries are traditional dishes of fish and seafood.Of the meat delicacies worth noting the use of pigeon, turtle, camel meat.
Traditionally, the daily diet of inhabitants of many African countries includes bread, beans, olives, nuts, fruits, dishes from grain crops and vegetables. Coconuts and bananas are a constant component of many dishes, including soups, salads, cereals and omelets.
The most famous dish of North African cuisine is couscous. In the Maghreb countries (Tunisia, Algeria, Morocco) it is cooked with vegetables, meat, beans, sweets. Basically, based on semolina, popular in other African countries.
National cuisineAfrican - colorful and fragrant. It is customary to use a variety of spices and seasonings, for example, on the west coast popular fish soup, pepper with chili and thick soup of fu-fu, also generously flavored with spicy seasonings.
In eastern Africa, national dishes like to cook from meat - beef, goat, game. And the side dish serves dishes of rice, cassava and tapioca.
Let's not forget that African Ethiopia is considered to be the birthplace of today's popular coffee. And South Africa is famous for its wines far beyond the Black Continent.
See in this video how the South African bobots are cooked:
American cuisine
And this is a real mix of the culinary traditions of the peoples who had originally inhabited vast territories from Alaska to Patagonia, and the gastronomic preferences of Europeans who flooded these lands. After all, the Spaniards, the Portuguese, the French, and the British settled America.
Although both Mexicans and Peruvians with Bolivians retain their centuries-old recipes of national dishes. The cuisine of different regions of Brazil is very diverse, and Argentina is familiar to us as a real meat paradise.
But the United States is already strongly associated with our fast food. And I must say, he did occupy his niche in the kitchen of the world.
To illustrate the brief story about American cuisine, the recipe for pancakes in this video is:
Take it to yourself, tell your friends!
Read also on our website:
These delicacies are deadly, but they still continue to eat them!
Even ordinary food, such as fast food, which leads to obesity and the development of serious diseases, can be dangerous. But in the world there are such exotic dishes that can cause instant death.And all the same, there is a queue of people willing to try them! What are these delicacies?
A simple Ossetian pie recipe with cheese and beetroot leaves
Ossetian cuisine is rich in hearty and tasty national dishes, one of which is Ossetian pies with a wide variety of toppings. Next, you will learn a simple recipe for making a real Ossetian pie filled with cheese and beetroot leaves that you and your guests will love.
Home Sushi Bar: Cooking in Japanese!
How to cook sushi at home, how do they differ from rolls? What is wasabi, uramaks and nigiri? What ingredients and tools will you need to make these Japanese dishes? The answers are in this article, plus step-by-step recipes for different types of sushi.
Related news
World Cuisines - Gastronomic Tour
World Cuisines - Gastronomic Tour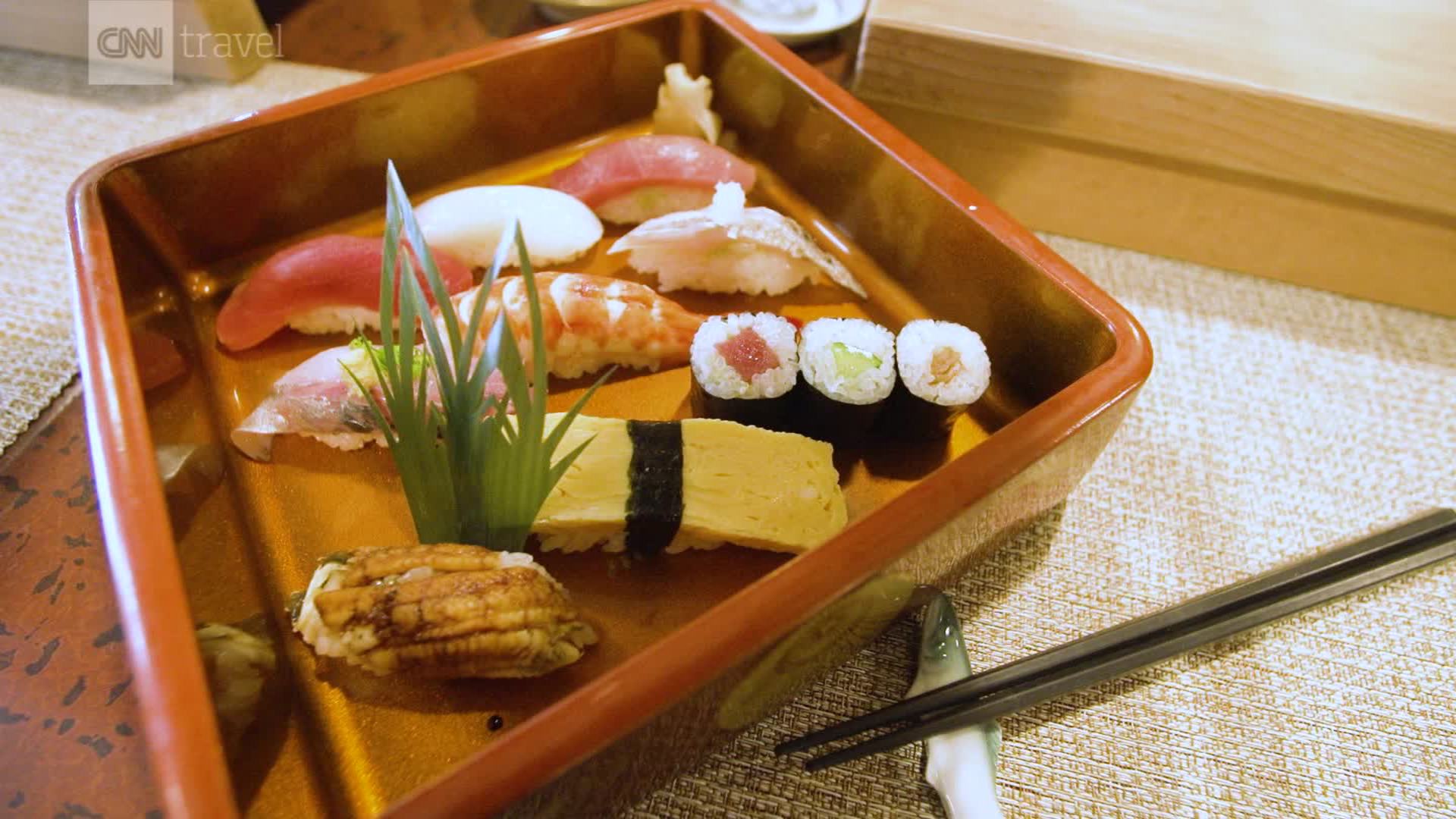 World Cuisines - Gastronomic Tour
World Cuisines - Gastronomic Tour
World Cuisines - Gastronomic Tour